Yosemite Program Information
The historic storms and snow that closed Yosemite National Park in late February caused significant damage to cabins and washed out roads.  Unfortunately, the 2023 NatureBridge in Yosemite Program had to be canceled.
In recognition of all the work students did toward 2023 trip, those registered when the program was canceled will be given priority to participate in 2024, including juniors who will be seniors.  New applications will be accepted as space allows.  Check this website again in the fall for updates.
Anticipated Program Timeline:
November 1-30 – Returning Student Reservation, New Student Application, and Chaperone Application open for 2024 Yosemite Program
Early December – New Student Applications out to schools for evaluation and selection;  Returning Student Reservation confirmed
Mid-December – Chaperone selection and notification
Late December – New student selections due from schools
Early January – New student notifications via email
Early January – Required forms mailed to all students
March 1 – Required forms, community service, and NatureBridge Registration Forms due
March 5 – Student and Parent Orientation via Zoom
TBD – Leave for Yosemite National Park
TBD – Return from Yosemite National Park
More About NatureBridge in Yosemite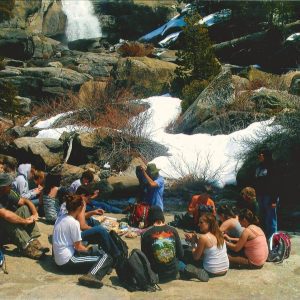 NatureBridge in Yosemite is a five-day outdoor environmental education program that The McConnell Foundation offers to North State students.  NatureBridge is a nonprofit organization that has provided environmental education  in partnership with the National Park Service since 1971.  In addition to Yosemite, NatureBridge offers programs in Olympic Park, Washington; Headlands Institute at Marin Headlands in the Bay Area; and Santa Monica Mountains Institute in Southern California.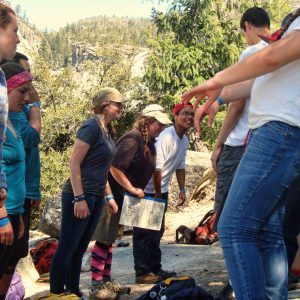 In 1989, The McConnell Foundation began funding theYosemite Program for students in the North State.  Each spring, high school sophomores and juniors from public high schools and public charter schools in Modoc, Shasta, Siskiyou, Tehama and Trinity counties, and Big Valley High School in Lassen County spend a transformative week in Yosemite. Groups of students, led by NatureBridge field instructors, explore the park and participate in discussions and activities designed to heighten awareness of the importance of our natural world.  Keeping this goal in mind, curriculum taught during the week aligns with state and federal standards.
The Foundation provides full funding for student tuition, transportation, and administration.  Adult chaperones from the schools served accompany students on the trip.  Students who participate in the program are selected by Yosemite Advisors at each high school. Once selected, participants must complete 8 hours of community service related to the environment in order to secure their spot. In past years students have volunteered at organizations such as the Shasta County Wildlife Refuge, Whiskeytown Environmental School, the Upper Sacramento River Exchange, Turtle Bay Exploration Park, and the Department of Fish & Game.  They have also cleaned up roadways and started recycling programs in their schools.  The goal of the community service requirement is to connect students their community and the earth.
The goal of the program is to inspire students to develop a connection to the natural world and empower them to act as responsible stewards of natural resources.