Former Police Station – The Latest Update
Update As of August 11, 2018 — The process of salvaging key elements of the former police station is underway in downtown Redding. Here are photos of Eddie Axner's Construction team carefully removing the green doors for safekeeping. These form a distinctive and recognizable element of the building and will be incorporated into future projects. Jim Huber of Huber & Burton will work on the masonry aspects. The hope is that it will be possible to salvage 200+ of the bricks of this brick-clad cement structure. The cement content of the mortar will make this challenging, as it is more dense than the bricks themselves, but we remain hopeful. Hard demolition is scheduled to begin Monday August 13th at 7am.
PREVIOUS POST:
Demolition Day Cancelled, But Progress to Continue — August 1, 2018 — The McConnell Foundation has cancelled the Demolition Day event at the former police station, which was to take place this Thursday. We at The McConnell Foundation are thinking of the whole community during #CarrFire. The focus right now needs to remain on crisis response and recovery, and therefore we are cancelling this event.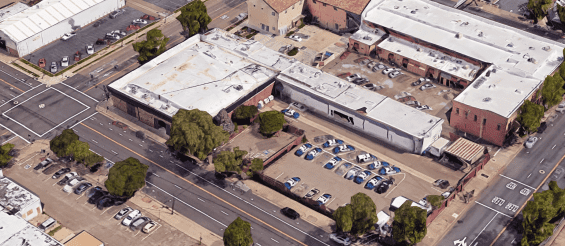 We especially want to thank the law enforcement personnel who spent so much time in this building (the former police station)–for their ongoing work on behalf of our community.As you may know, this brick-clad cement building has been deemed unsafe, and has sat idle since 2015. In consultation with Police Chief Roger Moore and others, we are proceeding with demolition of the building as planned.
We here in Redding will not let the Carr Fire get the best of us. In the long months ahead, we will all need a bright spot, and the activity in the renovated warehouse onsite will be a place for community members to come together. The fire cannot stop the spirit of progress in this community.
Eddie Axner Construction is contracted to begin demolition work this week and the plan is to salvage the green doors, as well as a portion of bricks (as best way can) to serve as mementos for the community, and in particular for the law enforcement who are going above & beyond right now.
————————————————————————
For more on future plans for the site, check out the links & photos below: