California Street Parking Structure Murals Documented, Added to Shasta Historical Society Archives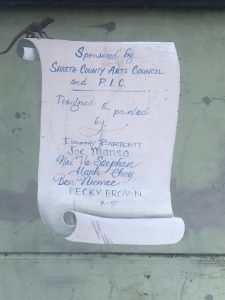 In May of 2018, The McConnell Foundation commissioned artist Alice Porembski to complete an inventory of Art in Public Places within the Redding Cultural District.
This includes the art murals on the California Street and Placer Street sides of the California Street Parking Structure (see below). In Fall 2019, The McConnell Foundation arranged for the photos to be added to the archives of the Shasta Historical Society, to honor the contributions of the artist and the place of these murals in Redding's history.
Today, as the parking structure demolition proceeds as planned, we would like to honor their contributions to beautifying our public life, especially: Dorothy Bartlett, Joe Manso, Nai Va Saephan, Manh Choy, Ben Niemec, and Becky Brown, sponsored by the Shasta County Arts Council and P.I.C.
Here are some examples of the photographs that will be added to the Shasta Historical Society archives:
For the full inventory of art assets in Redding's Cultural District, click here.