At the beginning of the 2011 school year, The McConnell Foundation and Redding School of the Arts celebrated the opening of RSA's new, state of the art school facility. The Foundation funded the $30 million building project as a program-related investment for the community, and the LEED Platinum certified building represents a fortuitous intersection between the Foundation's goal of creating a model energy-efficient project for the community and RSA's need for a permanent home.
The design of the school and the surrounding site is based on two essential ideas: that creative, colorful, healthy, and fun surroundings can inspire students to learn; and that the built environment should create opportunities to show students, teachers, and the community that sustainability is a part of each day. The school's features are terrific. Every aspect of the facility is purpose-built for a visual and performing arts school, with a focus on green architecture and sustainable use.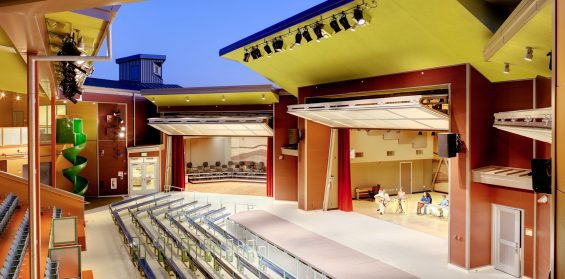 The two-story, 77,000 square foot building includes large, brightly-painted classrooms, art rooms, music and dance rooms, a library and information center, a cooking classroom and a technology room. A key feature of the space is an indoor/outdoor amphitheater seating up to 600 people and offering enclosed three dance and drama rooms that can be opened to create performance venues. The innovative playground offers areas for gross and small motor skills, imaginative play, organized team sports, and active free-play.
Seasonally, classes grow produce in the school garden and orchard, gather eggs from the school's chickens, and eat their bounty in class or give it to the cooking classroom. Despite a changeable climate, half of the school's learning space is located outdoors. Teachers take advantage of this and often conduct classes outside or open windows for fresh air. Combined with non-toxic building materials and cross-ventilation in all classrooms, this has resulted in decreased student and staff illnesses from prior levels.
Of equal importance to its inspiring design is the fact that the facility serves as a national model of energy efficiency and sustainability. In 2012, RSA became the first school campus in the world to be certified Platinum under the stringent LEED for Schools 2009 standards. It was designed with an overall commitment to environmental sensitivity – a sustainable energy design costing only 3% of the total project budget – including a 121-kw photovoltaic system, solar water heaters, a wind turbine and a 175,000-gallon underground water storage tank for rainwater collected from the roof and used for the school's summer irrigation.
By combining basic design principles (smart site orientation, keeping existing trees, and maximizing natural light) with advanced technology (lighting controls, geothermal HVAC and energy management systems) the facility uses less than 20% of the energy of typical schools of its size. Students learn daily about the building's green features as an integral part of attending RSA – by tracking the school's performance via a web-based "Building Dashboard" and hands-on experience – how the wind turns the turbine, the solar panels soak up the sun, the water level in the storage tank declines with irrigation, the lights automatically dim with bright sunlight, etc.
RSA's school building is not only a national model of energy efficiency and sustainability; it is a large sustainability laboratory for the students and community. Since moving in, the talk of the school and much of the students' initial lessons speak to the building's key green features and light load on the planet. Students are proud their school made LEED Platinum with points to spare; and without prompting, will tell visitors about their favorite green feature of the facility. Having a school that is truly an environmentally responsible, vibrant, living-learning environment filled with whimsical, child-centered features, engages students wherever they may be on campus and serves as a catalyst for formal and informal lessons on sustainability.
About Redding School of the Arts
Redding School of the Arts is a K-8 public charter school in Redding, California, founded in 1999. The school believes when it comes to young minds, art enriches, expands and prepares them for a full life in useful and unexpected ways. Children who participate in music and arts programs often do better in other subjects than children who do not, and low achieving students engaged in a visual and performing arts program have better attendance, increased self-esteem, and cooperate more fully with teachers and peers.
The mission of Redding School of the Arts, where education and the arts connect, is to educate K-8 students who have an interest in visual and performing arts and cultivate their knowledge and skills for the betterment of their local and global community. Utilizing an inter-disciplinary theme-based approach, students will learn to read, write, speak, problem solve, use technology and sustainable practices. RSA seeks to accomplish its goal of high academic and behavioral standards through a student-centered, multicultural and multi-lingual environment with an emphasis on the arts. This charter school will enable students to become literate, self-motivated and life-long learners who participate in the art of their community.
RSA has long been a leader in education innovation: it was the first charter and elementary school in California to receive the California Creative Schools Award; has been recognized nationally for its innovative approach to special education; it instituted a highly successful Mandarin-immersion program – the first of its kind in a rural region; and implemented a multi-pronged environmental stewardship program, taking advantage of its new LEED Platinum school facility.
For more information about RSA, visit: www.rsarts.org
Photos ©2011 Steve Whittaker Photography / www.whittpho.com